Today we went back to the shop my engagement ring came from and looked at wedding bands again. I pretty much knew what I wanted because we had gone in to browse once before. The first ring I tried on today was perfect. It was even my size. I decided to go with the channel set because it adds a little more sparkle to the overall look, and it is simple and sleek which is what I am usually drawn to. Here's a similar ring: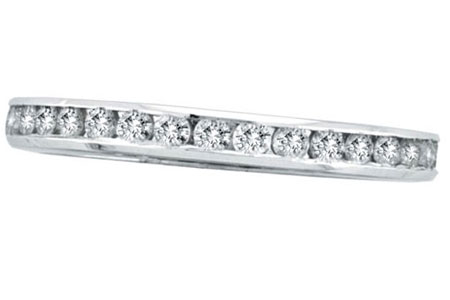 Next Pete decided to look at some more rings because he is still not 100% sure. He compared yellow gold, white gold, titanium and tungsten. I did my best not to give an opinion because I think Pete will be happier if he comes to his own conclusion. He says he is going back and forth between the modern look of the titanium/tungsten and the classic look of yellow gold or white gold. I think he's unsure about the titanium/tungsten because we are unfamiliar with the metals. Here's what we learned about each:
Titanium: Titanium is the dark "gunmetal" color, very lightweight, and very hard. We had heard that titanium can't be cut, but John (the guy we work with at the shop) said that was only true when they first came out. Titanium can now be cut. Titanium will scratch over time and is hard to condition or repair because it is so hard. Price range is $100s.
Tungsten: Tungsten is also the dark "gunmetal" color, and very hard. However it is also very heavy. Tungsten can't be cut, so all rings made from tungsten have a "breakout" point (like a crumple zone in a car) where it is purposefully made weaker. The problem with this is that if you drop your ring on a very hard surface, it could crack and you will have to replace it. Tungsten will not scratch over time and requires no upkeep. Price range $300-400s.